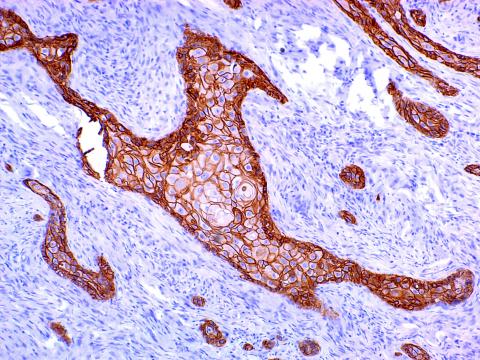 Principal Investigator: Dr. Vijay M Patil
Co-Investigators: Dr. Manoj Mahimkar
A combination of platinum based chemotherapy with cetuximab is the recommended palliative chemotherapy regimen in head neck cancers., though less than 1% of patients can afford the treatment in developing countries. As a significantly cheaper alternative, we have designed an oral metronomic chemotherapy (MCT) combination of methotrexate and celecoxib. In a randomized study, we showed a survival advantage along with lower side effects, better QOL and fewer hospital visits compared to single agent cisplatin. One third of failures in head and neck cancers are seen within 6 months, and such patients have median survival of less than 3 months. This MCT was studied in these patients with median expected survival of 4 months (sent for publication). Despite the impressive initial efficacy of MCT, resistance usually develops in 3-6 months. Overexpression of multidrug transporters (Abcc2, Abcc3, and Abcg2) may be one of the reason behind the development of resistance to methotrexate used in MCT. Of these, Abcg2 is active in head and neck cancers and over-expressed in 50-60% of patients. Erlotinib (E) an oral tyrosine kinase inhibitor can inhibit Abcg2 mediated drug efflux. In our experience erlotinib when used after failure of cisplatin or MCT results in a promising median survival of 5.06 months. Upfront combination of MCT with erlotinib (MCT-E) studied by the author resulted in a 6-month survival of 80%. (accepted for publication). However, these results need confirmation in a large study, along with translational research to identify the mechanism of action, resistance and biomarkers for efficacy prediction.