Anaesthesia Critical Care and Pain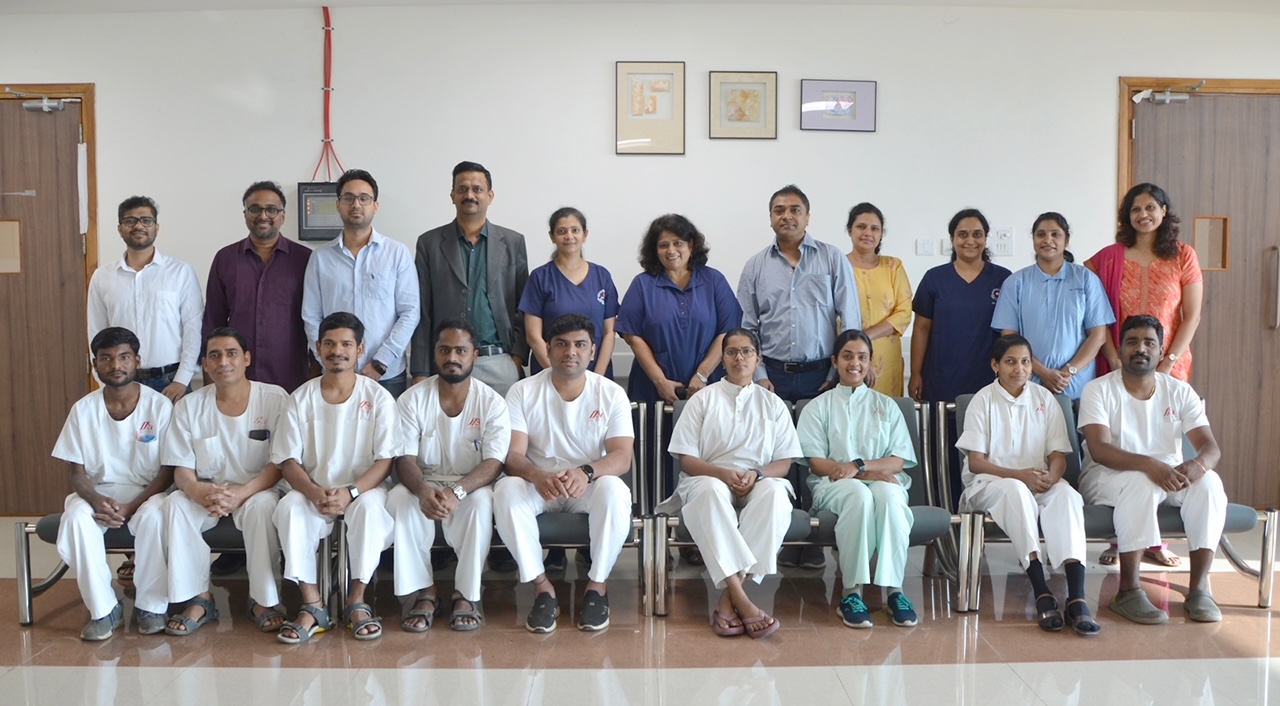 Officer in charge : Dr. Bhakti Trivedi
Overview
The Department of Anaesthesia comprises of the Anaesthesia Service, the Intensive Care Unit and the Pain Service. The services are provided by five permanent staff members and twelve senior residents from ACTREC as well as twenty –two permanent staff members and residents from TMH. Several members of the department are specialists in their respective field. The department is recognised nationwide for its expertise in the anaesthetic management of surgical, diagnostic and therapeutic procedures. Many members of the department have acquired foreign qualifications or have received specialisation training abroad and have varied research interest's peri-operative care including pain management and intensive care of cancer patients. The department attracts several qualified anaesthetist from different parts of the country who wish to undergo advanced training in different areas of peri-operative care.
Anaesthesia
Department of Anaesthesia aims to provide optimum quality patient care not only in the operation theatres but throughout peri-operative period beginning from optimising pre-operative patient status. Our team uses the most advanced, safe and patient-focused techniques in the delivery of anaesthetic care. The hospital has five major OT's which are well equipped with high end equipment to meet the needs of all types of major cancer surgeries. The Pre Anaesthesia Check-up (PAC) clinic functions daily and screens all patients posted for surgeries and procedures under anaesthesia. All cancer patients pertaining to neurosurgery, maxillofacial surgery, abdominal and pelvic malignancies, orthopaedic, gynaecology, paediatric, breast and urology malignancies are being operated. Procedures such as videolaryngoscopy, bronchoscopic intubations, diagnostic and therapeutic perioperative ultrasound, regional blocks, cardiac output & SVV monitoring are integral part of anaesthesia techniques.
General Anaesthesia as well as conscious sedation is provided in remote locations for carrying out diagnostic or therapeutic procedures in Radiotherapy, Interventional Radiology, CT and MRI.
Pain Service
The pain services at ACTREC look after the acute (APS) as well as chronic pain services. At ACTREC, APS looks after the postoperative pain management round the clock by using multimodal pain techniques like epidural analgesia, patient controlled analgesia (PCA), various blocks under Ultrasound (USG), with the aim of reducing the pain to a comfortable level, thus allowing a faster postoperative recovery. We at ACTREC, are in the process of developing an advanced chronic cancer pain management centre at ACTREC which will include an Interdisciplinary specialties (like physiotherapy, psychology), a well-equipped procedure room for carrying out various interventional pain procedures.
Intensive Care Unit
We have ten bed ventilated ICU including 3 isolation beds and a three-bed surgical recovery room. ICU is well equipped with modern ventilators, multiparameter monitors, invasive cardiac output monitors, defibrillators, specialized ICU beds for prevention of pressure sore, mechanical devices for prevention of Deep vein thrombosis (DVT). ICU has dedicated Point Of Care Ultrasound And Echocardiography machine for bedside decision making and ultrasound-guided procedures. ICU is manned round the clock by critical care fellows and senior residents under the supervised care of consultants experienced in handling critically ill oncological patients.
Academics
Education is a part of the philosophy statement of Tata Memorial Centre. Department of Anesthesiology, Critical Care & Pain stands by this. We are a part of Homi Bhabha National Institute and train students coming for the M.D. program.
We have a total of 60 MD (Anaesthesia) students, 3 Onco-Anaesthesia & Pain fellows, 6 DM critical Care students, 2 IDCCM fellows.
The MD (Anaesthesia) is a 3 year post-graduate program followed by 1 year of bond period. The students rotate through the various operating theatres and peripheral locations like the OPD, Radiology suites (I.R., CT scan, and MRI), Critical Care Unit, and Pain program (Acute & Chronic). This is a residency program, with graded responsibilities in the management and treatment of patients entrusted to his/her care. The participation of the students in all facets of educational process is essential. Every candidate should take part in seminars, grand rounds, case demonstration, journal review meeting sand clinical meetings. They have monthly home assignments & a pre-exit & an exit university examination. They have a mentor who guides them through the dissertation.
The DM Critical Care program is also a 3 year course with 1 year of working bond. The students rotate through the Critical Care unit & various other departments like the Microbiology, Radiology, Bone Marrow transplant. IDCCM is a one-year diploma course of Indian Society of Critical Care Medicine (ISCCM).Case based review in Critical care medicine (BRITE) for the students appearing for exit exams of critical care was introduced from this year.
The Department runs an annual post-graduate teaching course (Anaesthesia Review Course, "ARC") since the last 16 years which is attended by students from all over the country. It also holds an annual teaching programme called "THEMATICC" for critical care students & private intensivists since the last 15 years. Since the last 8 years the department organizes a dedicated cancer & acute pain teaching (Education in Cancer & Acute Pain 'ECAP") programme for students & private pain physicians. The department also organises an annual national conference "Difficult Airway", where national and international experts on difficult airway, share their knowledge and experience in the form of didactic lectures, plenary sessions, and debates.
Research
The department has more than 50 clinical studies, which were either completed or ongoing. Project discussion meetings are held at regular intervals where investigators discuss planned projects in the department before submission to the IRB. Members of the Department serve on the Institutional Ethics Committee and the Data and Safety Monitoring Sub-committee.