Cancer Cytogenetics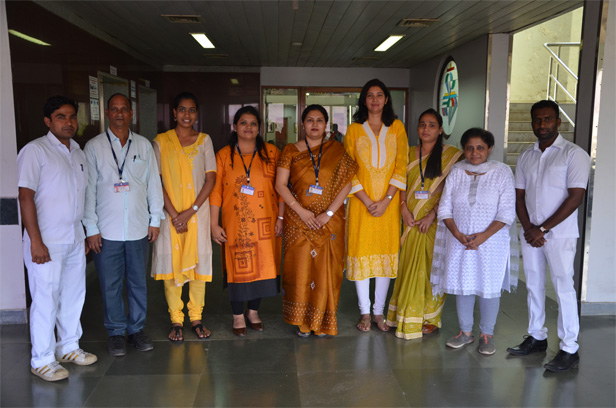 Officer in charge : Dr. Dhanlaxmi Shetty
Overview
The department of Cancer Cytogenetic provides the diagnostic services (conventional karyotyping and fluorescence in situ hybridization) for all hematolymphoid malignancies to in-house patients and outside referrals, thereby helping in diagnostic and prognostic evaluation of patients via treatment.
Facilities
Education and Training
The training & workshops on Cancer Cytogenetic for doctors/ teaching faculty are integral part & activities in collaboration with the Moving Academy of Medicine and Biomedicine every year.
The department also provides orientation in cytogenetic and general laboratory culture to Consultants/ registrars and to students of diploma in oncology nursing.
The department conducts advanced training courses for Master's Degree students as dissertation trainees. The department also absorb students as a trainee & observer for the experience & exposure of aspiring candidates.
Services
The department perform conventional karyotyping in Acute Myeloid Leukaemia (AML), Myelodysplastic Syndromes (MDS), Chronic Myeloid Leukaemia (CML) patients and ploidy analysis by chromosome counting in all patients. Fluorescence in situ hybridization (FISH) studies comprising of a panel of tests are performed at baseline in Acute Myeloid Leukaemia (AML), Acute Lymphoblastic Leukaemia (ALL), Chronic Myeloid Leukaemia (CML), lymphoma, Chronic Lymphocytic Leukaemia (CLL) and Multiple Myeloma (MM) and also in the follow-up patients. Chimeras (XX/XY) studies are performed in post-transplant sex-mismatch patients.
External Quality Assurance Scheme (EQAS)
The Department of Cancer Cytogenetics, Advanced Centre for Treatment, Research and Education in Cancer (ACTREC) is the first ever Cancer Cytogenetics laboratory established in Tata Memorial Hospital in 1988. It has been accredited for diagnostic services by the National Board of Accreditation for Testing & Calibration Laboratories (NABL) since 2008. The Cancer Cytogenetics Department at ACTREC is a well equipped laboratory that provides comprehensive diagnostic testing [Conventional Karyotyping (CK) and Fluorescence In-situ hybridization (FISH) studies] for all hematolymphoid malignancies both in-house by and referrals. The department provides comprehensive profile of tests in Multiple Myeloma (MM), Chronic Myeloid Leukemia (CML), Chronic Lymphocytic Leukemia (CLL), Acute Myeloid Leukemia (AML), Acute Promyelocytic Leukemia (APML), Acute Lymphoblastic Leukemia (ALL), Myelodysplastic Syndromes (MDS), Myeloproliferative disorders (MPD) and Lymphomas. Cytogenetics is a mandatory investigation and is performed at baseline and at successive follow ups thereby helping in diagnosis, classifying patients into different risk groups, guiding clinicians in deciding treatment and monitoring response. The department participates in External Quality Assessment program (EQAS) with College of American Pathologist (CAP).
Professional competency of Cytogeneticists is vital for offering accurate diagnosis. Competency can be assessed by regular and periodic proficiency tests. Participation in External Quality Assurance Scheme (EQAS) is one of the pre-requisites for accreditation and quality control. However, EQAS Cytogenetics service is not readily available in India. Considering the need for EQAS Cytogenetics in India, the Department of Cancer Cytogenetics, and ACTREC has initiated this service.
The program covers Karyotyping and FISH aspects in cytogenetics.
The applicant laboratory should send the duly filled registration form with payment details to cytogen.eqas@actrec.gov.in and accounts@actrec.gov.in The payment receipt as well as acknowledgement for submission of registration form will be sent to the registered e-mail ID. In case of an issue with online payment, participants should get in touch via e-mail.
EQAS Cytogenetics is a biannual (2 cycles) program starting from 1st January to 31st December. Institute/Participants have to pay one time enrollment fee of Rs. 5000/- + Rs. 900/- (@18% GST) = Rs.5900/-(Rupees Five Thousand and Nine Hundred only) and yearly service charge of Rs. 2000/- +Rs.360/- (@18% GST) = Rs. 2360/- (Rupees Two Thousand and Three Hundred Sixty only) per participant. If any laboratory/Institute wishes to get more than one signatory evaluated, a sum of Rs. 2360/-(Rs.2000/- + Rs. 360/- @18% GST) (Two Thousand and Three Hundred Sixty Rupees only) per additional signatory will be charged. Those interested should send us the details of the additional signatories (Name, Qualification, Designation, Email ID and Mobile No.) as early as possible.
Those who wish to enroll their laboratories for the second half during the middle of a cycle can do so by paying the same one time registration fees along with yearly service charge per participant. Renewal charges have to be paid in December every year for the continuity of EQAS membership for the next year. In case your renewal fees are not received before start of the New Year, your enrollment will be cancelled forthwith and you will be required to apply afresh for re- enrollment.
EQAS Cytogenetics Charges
FOR NEW REGISTRATION
| | | | |
| --- | --- | --- | --- |
| Particulars | Amount | GST @ 18% | Total Amount (Rs.) |
| Registration fee (One-time payment) | 5000/- | 900/- | 5900/- |
For New Registration
Amount including GST @18%
Registration fee
Service Charge
Total Payable
Registration fee + One signatory
5900/-
2360/-
8,260/-
Registration fee + Two signatory
5900/-
4720/-
10,620/-
Registration fee + Three signatory
5900/-
7080/-
12,980/-
Registration fee + Four signatory
5900/-
9440/-
15,340/-
Registration fee + Five signatory
5900/-
11800/-
17,700/-
FOR RENEWAL
| | | | |
| --- | --- | --- | --- |
| Particulars | Amount | GST @ 18% | Total Amount (Rs.) |
| Renewal Charges / Year | | | |
| One signatory | 2000/- | 360/- | 2360/- |
| Two signatories | 4000/- | 720/- | 4720/- |
| Three signatories | 6000/- | 1080/- | 7080/- |
| Four signatories | 8000/- | 1440/- | 9440/- |
| Five signatories | 10000/- | 1800/- | 11800/- |
This amount is Non-refundable & Non-transferable.
The details for net banking:
Mode of Payment: NEFT
Bank Transfer Details:
Name of Account Holder: TATA MEMORIAL CENTRE – ACTREC
Bank Name: CENTRAL BANK OF INDIA
Branch Name: KHARGHAR BRANCH
Bank Account No: 1797305746
IFSC Code: CBIN0284047

No claim for refund of fees for missing any set(s) of specimens due to transportation problems or any other reason will be entertained from any participant. Please note application will be accepted through email only and no hard copy for the same will be entertained.
The program comprises of two cycles of fixed pellet sample/pre-prepared slides for FISH testing in hematological malignancies and images in JPEG for Bone Marrow (BM) karyotyping which will be sent to the participants. The clinical data and format of evaluation will be sent to the registered email ID of the participant. Only registered participants will be allowed to evaluate the cases. In the absence of registered participant no other person will be allowed to evaluate on his/her behalf. During evaluation, separate forms should be sent by each signatory if more than one signatory is registered for the program. The feedback for each evaluation form will be provided separately. It is absolutely necessary that the FISH and BM Karyotyping should be evaluated within 21 working days of receipt of the same, so as to maintain the continuity of the cycle among all participants in 1 year. Delayed evaluation forms may not be considered for the analysis and feedback.
During the cycle, (Jan-Dec) if there is any change in the email ID, Mobile No., name and address of the participating lab or signatory; please inform us well in advance to ensure smooth transportation of the fixed cell pellet/slides. The participating labs are requested to inform us of any change in the signatory, well in advance to prevent logistics problems.
Contact Details:
Ms Hemani Jain or Ms. Purvi Mohanty
Co-ordinators EQAS
Department of Cancer Cytogenetics
Room No. 6, Ground floor, CCE Building
ACTREC, Tata Memorial Centre
Navi Mumbai – 410 210
Phone: 022 27405000, Extn: 5759/5758
E-mail: cytogen.eqas@actrec.gov.in
We would prefer all communications via email only. In case of an acute urgency, you may call on above contact number between 3:00-4:00 PM from Monday to Friday and 11:00 am-12:00 Noon on Saturdays.
Please note:
We try our best to supply the specimen free from microbial contamination, HIV, Hbs Ag. & other blood borne pathogens. However, they should be treated as potential biohazards and precautionary measures should be taken in their handling and disposal. Kindly follow the BMW management rules 2016.
It will be the sole responsibility of the participants, if incomplete or incorrect details are provided.
EQAS providers maintain confidentiality of the participants' demographics, results, reports or any other information provided by them.

Kindly email us at cytogen.eqas@actrec.gov.in by using "EQAS Cytogenetics" as subject line for EQAS related correspondence.

Looking forward to hearing from you.

With warm regards,

Dr. Dhanlaxmi Shetty, PhD, PGDHMM, PGDMLS
EBMG Board Certified Clinical Laboratory Geneticist &
Associate Genetic Counselor-BGCI
Officer in Charge-Cancer Cytogenetics dept
ACTREC, Tata Memorial Centre

Application form for registration