Microbiology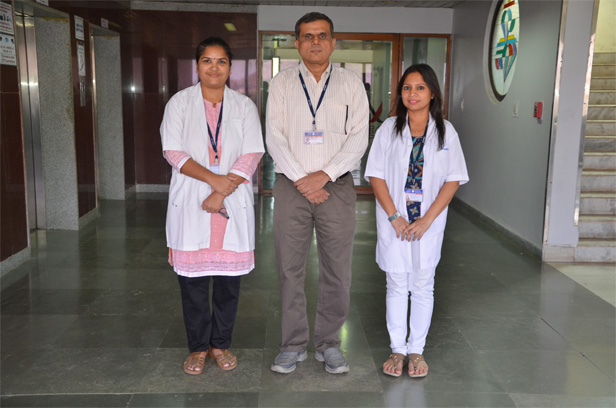 Officer in charge : Dr Vivek Bhat
Overview
The Microbiology Laboratory is involved in patient service, academics and research. All the diagnostic microbiology tests for patients are accredited by the National Accreditation Board for Laboratories (NABL).
Services
Services include processing and reporting of bacteriology, serology, mycobacteriology, mycology and other clinical microbiological samples at ACTREC. Sterility testing for Blood Bank services, environmental surveillance, infection control services and waste management support is also provided by the laboratory
The quality systems are compliant with the ISO -15189 standard guidelines. Automated state of the art equipment is available for blood cultures, identification and susceptibility testing and viral serology. Emergency patient services are provided during weekends and holidays. The department has well trained technologists and highest quality standards are maintained with regard to diagnostic services.
Education and training programs
The department is involved in teaching students of MD Microbiology, residents, nursing and laboratory staff. Summer training and scientific projects for BSc/MSc students are also undertaken. The ATMLT (Advanced training course in Medical Laboratory Technology) is conducted and coordinated by the department. The department is also involved in laboratory based scientific research projects with regular publications in national and international journals.
Staff
Staff

| S. No. | Name | Designation |
| --- | --- | --- |
| 1. | Dr Vivek G Bhat | Officer in charge |
| 2. | Dr Hemant Vira | Scientific Officer |
| 3. | Ms Naina Baraskar | Scientific Assistant |
| 4. | Ms Reshma Kamble | Technician |
| 5. | Ms Hemali Kadu | Technician |